Posts matching tags 'hype'
2009/6/15
The Official Chart Company, which runs Britains's music charts, is reviving the indie charts, updated to reflect the changing definition of "indie":
The initial criteria defined an independent release as any record which was released by a label with independent distribution, in an era when major record companies were self-distributed and smaller labels used alternative routes. Today, however, with even majors outsourcing their own distribution to independent operations, this criterion has become less relevant.
Under the new rules, a download or CD will be eligible for the Official Independent Charts if it is released on a label which is 50% or more owned by an independent (or non-major) company, irrespective of the distribution channel through which it is shipped or delivered.
So now joint ventures with the Big Four major labels are officially "independent".
I think, however, that they missed the big picture. When the word "indie" is used to refer to musical product (bands, labels, records), it seldom refers to the business model under which the product was released. Typically, when a band or record is described as "indie", this refers partly to what they look or sound like (which is to say, to a greater or lesser extent like the independent bands between post-punk and the rise of Britpop), but more saliently, to the target demographic. "Indie" means sort of what "alternative" meant in the 1990s; a conspicuous badge of not being "mainstream" that doesn't require any more effort to obtain than being in the mainstream would, with its sounds and styles (not to mention the word "indie") borrowed from the original independent bands, only stylised and streamlined for easy mass consumption ("Note: lose all that stuff about Marxism and Fluxus and existentialism, and pump up the sex.")
As such, looking at the ownership and distribution of a record label when assessing whether a record is "indie" is woefully inadequate. A more suitable criterion would have to be based on a points system, with bands or releases being awarded points if they fulfil certain criteria, i.e.,
band is on an independently-owned label: 2 points
At least 50% of the band wear skinny jeans: 2 points
At least one band member has an asymmetrical haircut: 1 point
1 point for each of the following influences cited (with proof): The Clash, Joy Division, XTC, Gang Of Four, Neu! (maximum 3 points)
band's sound has been described by music critics as "angular" - 1 point
A score of 5 or higher is required for a band to be officially "indie".
To keep the criteria relevant, a committee of industry, media and marketing types would convene every six months to update these rules to take into account recent trends. (For example, in light of the recent trend towards hipster-folk, the committee might now be debating allowing one point for band members with rustic-looking beards, or for bands having ukuleles in their instrumentation.)
(via xrrf) ¶ a modest proposal business hype indie marketing music
2007/6/14
Banksy's latest opus is a replica of Stonehenge made of portable toilets, installed on the Glastonbury festival site: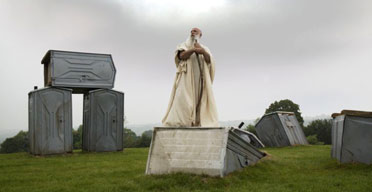 The artist, never shy of controversy, has raised some eyebrows with the location of the artwork in the "Sacred Space" field, venerated by the festival's more hippyish devotees. Banksy himself has no illusions about the sanctity of his work, however: "A lot of monuments are a bit rubbish," he said, "but this really is a pile of crap."
Is it just me, or is Banksy losing his edge? Offending a few hippies (a rather soft target) is not quite the same as taking on, say, Disney Corp., the state of Israel or the oppressive existence of police forces, and I suspect that his latest work wasn't dumped in the field in the dead of night, but probably arranged with the festival organisers to add some subversive cachet and/or appropriately edgy celebrity value to their event. Mind you, whether Banksy was ever really subversive is a matter for some contention; Charlie Brooker (who, with Chris Morris, incorporated aspects of Banksy into the Nathan Barley character) reckons that
this particular emperor never had any clothes
.
2006/8/16
The Boston Globe looks at the phenomenon of Snakes On A Plane, the first major commercial film where the decision-making process was subordinated to the collective will of bored people on the internet. Is it a bold new era of democracy in entertainment, or just a larger focus group?
In the year since a Hollywood writer named Josh Friedman posted on his Web diary that he'd been script-doctoring a movie of that title, the ``SoaP" meme has grown like Topsy. It's the latest iteration of viral marketing, an Internet kudzu that initially took on a life of its own against the wishes of the film's corporate keepers. And it's almost certainly the most visible example of a sensibility that didn't exist before the digital revolution: Mass Camp.
Regardless of how the movie turns out, a line is being crossed here, and it raises questions that don't have quick answers. Should audiences have a hand in how a movie is made, even an out-and-out crowd-pleaser? At what point in the process does a director become part of the marketing team? Is this a bad thing or does it just rubber-stamp a practice increasingly part of the cost-conscious film industry? Can studios even hope to control the use of the blogosphere as a marketing tool?
Moviegoers should also wonder if the results will be better films or more films driven by consensus. The two are most certainly not the same thing. Critic Chuck Klosterman recently worried that we may be entering an era of ``the Wikipedia version of a movie," and his concerns are well-founded. We go to movies -- even honest schlock -- not to see what we expect to see but to be surprised by what we hadn't yet considered.