The Null Device
2007/6/14
Banksy's latest opus is a replica of Stonehenge made of portable toilets, installed on the Glastonbury festival site: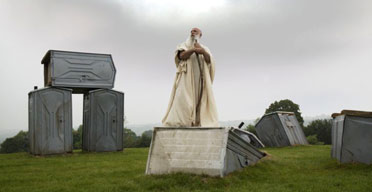 The artist, never shy of controversy, has raised some eyebrows with the location of the artwork in the "Sacred Space" field, venerated by the festival's more hippyish devotees. Banksy himself has no illusions about the sanctity of his work, however: "A lot of monuments are a bit rubbish," he said, "but this really is a pile of crap."
Is it just me, or is Banksy losing his edge? Offending a few hippies (a rather soft target) is not quite the same as taking on, say, Disney Corp., the state of Israel or the oppressive existence of police forces, and I suspect that his latest work wasn't dumped in the field in the dead of night, but probably arranged with the festival organisers to add some subversive cachet and/or appropriately edgy celebrity value to their event. Mind you, whether Banksy was ever really subversive is a matter for some contention; Charlie Brooker (who, with Chris Morris, incorporated aspects of Banksy into the Nathan Barley character) reckons that
this particular emperor never had any clothes
.
When the New South Wales town of Hinton was isolated by flooding, the situation was looking grim; there was concern that the local pub would run catastrophically out of beer before a bit rugby league match. Luckily, disaster was averted when the State Emergency Services sprang into action, delivering 12 kegs and 3 crates of beer, just in time. The town is expected to remain cut off until Friday.